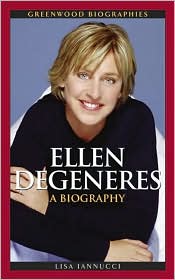 Ellen Degeneres: A Biography
Click the cover to
order it on Amazon
.
In 1997 Ellen DeGeneres made television history when she came out to the American public on her nationally syndicated sitcom. In spite of the controversy stirred by this personal revelation, Ellen DeGeneres has gone on to become on one the most popular personalities in Hollywood. With her own highly rated daily talk show, a lucrative ad campaign with American Express, and a successful turn as Oscar host to her credit, she has become one of America's leading female comedians and won her has place a household name. High profile romances with actresses Anne Heche and fiance Portia de Rossi, have also made a her an unassuming champion for gay and lesbian rights. Ellen Degeneres' monumental success, however, belies a painful childhood and uncertain career beginnings. This comprehensive and intriguing biography explores the life events that shaped the hilarious public figure we know today.

Complete with a chronology of significant events, illustrations, and a bibliography of print and electronic resources, this detailed biography is ideal for general readers looking to learn more about their favorite star or for those seeking information on groundbreaking members of the gay and lesbian community.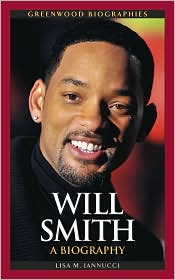 Will Smith: A Biography
Click the cover to
order it on Amazon
.
He first caught the public's eye in the 1980s as a clean-cut teenage rapper. But he's not the Fresh Prince anymore. He is the unquestioned King of the Box Office, an acclaimed actor responsible for billions of dollars in worldwide ticket sales, as well as a platinum-selling music star, and perhaps the most accomplished and powerful Hollywood celebrity working today.